50/50 BY JUICE N POWER - PACK OF 10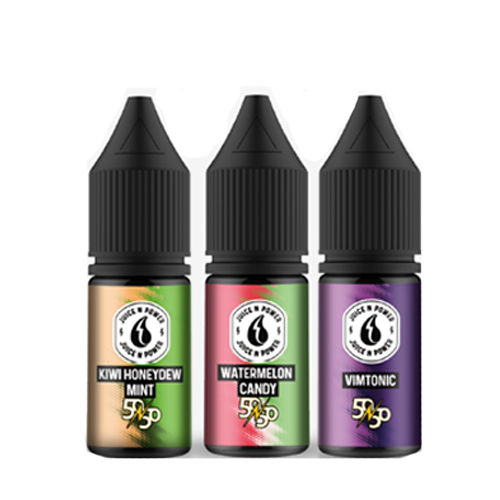 50/50 BY JUICE N POWER - PACK OF 10
PACK OF 10

3MG, 6MG, 12MG &18MG | 10ML



50PG/50VG
50/50 FLAVOURS
Kiwi Honeydew Mint
The combination of Honeydew, Kiwi & Mint is such a unique blend to Juice N Power, the burst of fruit complemented with the menthol back hit is a match made in heaven.
Watermelon Candy
Take a refreshing break into a summertime island paradise with a watermelon-rich blend of subtle brilliance and relaxing, heavenly sensations. A seasonal summer wonder for your taste buds to behold, this flawlessly blended watermelon candy gummy dances gently into your very soul and creates a subtle explosion of flavour.
Red Apple
Enjoy a fruity yet reserved blend of sweet and tart and revel in the taste sensation of indulgent simplicity with this all-round flawless flavour. Grab a treat and take a journey into a rich tapestry of flavour that will envelop your taste buds in heavenly simplicity.
Vimtonic
A fruity favourite burst of imagination seamlessly blended into a Vimto-laden experience of shining taste opportunity. Give yourself the gift your taste buds have been asking for with a familiar favourite with its very own flavour burst twist. Enjoy the complex blend of flavours all mixed together to create this fab favourite.
Caramel Milkshake
Caramel Milkshake 5050 provides you with a smooth and delicate hit of caramel, with the velvet finish of milkshake, great as a starter liquid, available in 4 different strengths to suit the user.
Watermelon Mojito
A perfect concoction of sweet watermelon, fresh zesty lime and a light touch of mint to electrify your tongue.
Strawberry Lemonade
Conjure up the taste of summertime with our Strawberry Lemonade e-liquid – the perfect vape to quench your thirst and leave you refreshed. Enjoy a refreshing blast of citrus and the delightful fruitiness of berry when you vape our Strawberry Lemonade e-juice. This perfect pairing will quench your thirst and tantalize your taste buds, leaving you with the uplifting sense of summer.
Sour Cherry
Enjoy the exotic and refreshing taste of cherry tantalizing your taste buds and quenching your thirst when you vape our Sour Cherry e-liquid. Fans of fruity flavours won't be able to resist the zingy taste of our Sour Cherry e-juice. Refreshing, thirst quenching and exotic, you'll love to vape this e-liquid that makes you feel like it's summer all year round.
Totally Tobacco
A smooth and smokey tobacco flavour, our product totally tobacco, the most intense and immersive tobacco flavour.
Melon Berries
A flawless combination of powerful, ripe melons and eruptive lashings of freshly juiced wild berries generating a flavoursome vortex on your palate.
Rainbow Fizzy
Feel the fun and explore new taste dimensions with Shock Fizz. Blast your tongue into hyperdrive with rocking rainbow of fizzing fruity flavours.
Rainbow Sweets
An infusion of intense juicy fruit flavours which burst in your mouth creating a rainbow within the palate of your tongue.
Mango Medley
An explosive eruption of delicious sweet mangos combined with luscious peaches sending powerful waves through your mouth.