BEARD X VAPE 100ML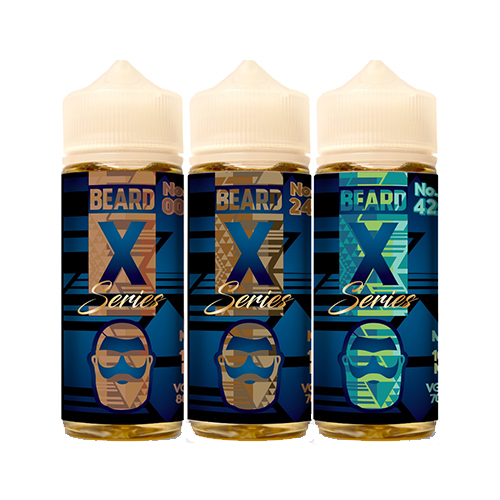 BEARD X VAPE 100ML
BEARD VAPE CO
Beard Vape Co is renowned for its iconic logo and unique, top-selling flavours. It's also known for its humble beginnings, with Beard Vape Co conceptualised in 2014, by two brothers and a close friend in the back of Nana's Vape Shop in Venice, California. Beard X Vape 100ml is a 70% VG 30% PG e-liquid. This product is 100ml of e-liquid in a 120ml short-fill bottle.
FLAVOURS -
No.00 - is a tobacco blend with a dark, sweet twist. The robust tobacco flavour is consistent throughout with notes of smooth caramel and rich cream, followed by a bold cappuccino taste that finishes things off to create a layered vape.
No.05 - is a fruity dessert blend, reminiscent of the popular strawberry cheesecake. The creamy, rich cheesecake provides the base of the flavour with notes of ripe-tasting strawberry for a distinct vape.
No.24 - is a confectionary blend with a unique taste. The mixture of sweet caramel with savoury notes is combined with tangy malted barley creates a distinct flavour.
No.32 - is a distinct dessert blend. Taking inspiration from the famous US dessert, cinnamon funnel cake, the mixture of a sweet cake and doughnut base combined with spiced cinnamon creates a complex vape.
No.42 - is an authentic fruit blend. A combination of sweet, juicy mixed berries complemented by smooth cream notes creates a simple yet bold flavour.
No.64 - is a unique, confectionery blend with a mixture of contrasting flavours. A rich cream base with distinct hibiscus notes is present on inhale before a sugary candy floss complements without overpowering.
No.71 - is a fruity blend with a sweet yet sour taste. A juicy peach flavour is combined with a tarter, candied pear for a distinct, bold vape.
No.99 - melds the mouthwatering flavours of a sugary, crisp lemon cookie with tart, juicy raspberry filling.