BEARD VAPE CO 120ML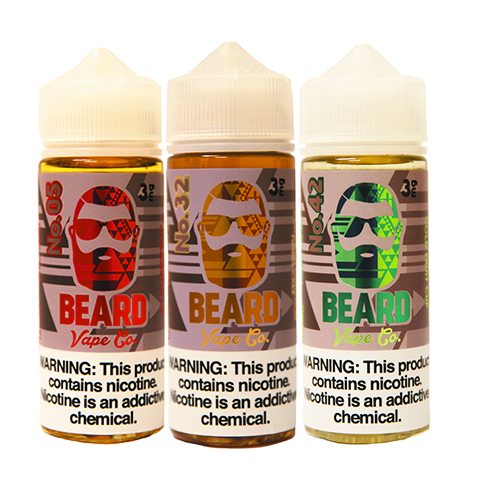 BEARD VAPE CO 120ML
BEARD VAPE CO
Beard Vape Co is a premium vape juice brand and company that has been around for nearly a decade. They are based out of the vape juice mecca, California, and quickly gained a reputation for being one of the best companies in the industry. Beard Vape Co 120ml is a 70% VG 30% PG e-liquid. This product is 100ml of e-liquid in a 120ml short-fill bottle.
FLAVOURS -
No 00 - A sweet blend of tobacco and mochaccino.
No 05 - Sweet, creamy, rich New York-style cheesecake, topped with gooey strawberry sauce, complete with fresh strawberries.
No 24 - A creamy, malted milkshake drizzled with sweet, salted caramel.
No 32 - Faire-fresh funnel cake, without having to wait in line, including the cinnamon and powdered sugar!
No 42 - Juicy peaches, pears, a hint of white grape and other mixed fruits blend together with just a touch of cooling menthol for a unique, nostalgic flavour that you'll keep coming back to.
No 64 - A unique, fruity treat, No. 64 blends tangy blue raspberry, with subtle hibiscus notes.
No 71 - You'll swear you're biting into one of those delicious sweet and sour sugared peach candies you remember so fondly.
No 99 - is a sweet, delectable lemon-raspberry e-liquid blend. It's a great choice for vapers searching for a perfect balance of dessert cookie flavor and sharp, lemony zing.