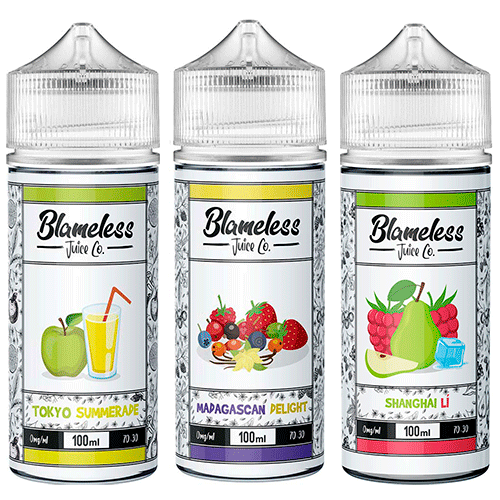 BLAMELESS JUICE CO. 100ML
BLAMELESS JUICE CO. 100ML



PG/VG:70/30
STRENGTH:-Omg



 Mango passion- 


A perfect blend of fresh mangoes & passionfruit with a hint of ice formulating a liquid which is truly an exotic blend



Madagascan Delight-

 
A mixture of strawberries and blueberries mixed with a smooth creamy vanilla. A must have for you dessert vapers



Caribbean Kola- 


An all time favourite soft drink paired up with fresh green apples with an undertone of lime devising up a true summer blend



Nordic Berry- 


Sweet ground berries fused with a refreshing lemonade, leaving a perfectly balanced liquid



Tokyo Summerade- 


Crisp Fuji apples brewed up with citrusy homemade lemonade, a great flavour for beverage lovers!



Blue Crème Anglais-


Sweet blueberries blended with a rich creamy custard



Kuala Lumpur Cooler- 


Inspired by fruits native to Malaysia, this rich blend of pomegranate & pomelo coupled with a blast of coolada will transport your senses. 



Melon Citron Refresher-


Pulpy melon with dark berries & citrus combined with refreshing shots of coolada




Shanghai Lí-


Sour raspberries blended with fresh pear & a burst of coolada on the exhale.
BLAMELESS JUICE CO. 100ML