SUICIDE BUNNY 100ML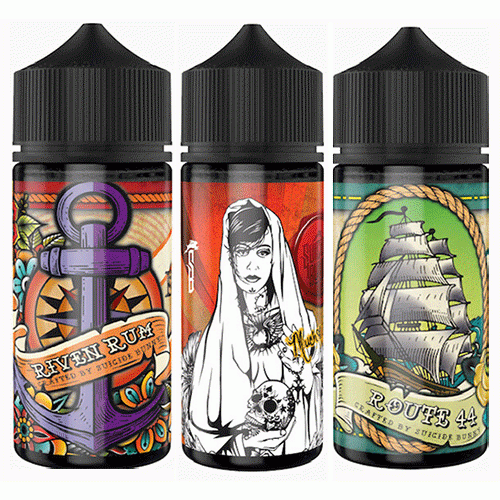 SUICIDE BUNNY 100ML
SUICIDE BUNNY 100ML

Suicide Bunny is the premium US-made e-liquid line. The creator of these beautifully crafted e-liquids is dedicated to raising the bar and providing an e-juice experience that will please both novice and expert vapers. Suicide Bunny is a 70% VG 30% PG e-liquid. This product is 100ml of e-liquid in a 120ml short-fill bottle.
Mother's Milk short-fill e-liquid is a dessert blend, perhaps the most popular in the entire Suicide Bunny range. The simple combination of sweet and ripe-tasting strawberry is fused with creamy custard for a proven winner of an e-liquid.
Madrina short-fill e-liquid by Suicide Bunny is a bold, simple fruit flavor. The sweet and juicy taste of melon features throughout, with a light creamy note on exhale. This blend is ideal as an all-day vape.

Sucker punch short-fill e-liquid by Suicide Bunny is an exotic fruit blend with a unique taste. A light dragonfruit flavour greets on inhale, laced with rich and silky notes of fresh cream for a smooth and balanced e-liquid.
Queen Cake short-fill e-liquid by Suicide Bunny is a dessert blend that creates a layered vape. The rich and creamy notes of a vanilla sponge come through on inhale, countered by sweet and tangy pineapple.
Original Bunny short-fill by Suicide Bunny is a dessert blend with a smooth backdrop. A sweet yet subtle cake provides the base of the flavour, complemented by a rich vanilla cream for a well-balanced vape.
Wanderlust short-fill e-liquid by Suicide Bunny is a sweet and rich dessert blend. The layered vanilla cake flavour is complemented by a smooth-tasting buttercream frosting. Making this blend one for the sweet tooth vaper.
Riven Rum short-fill by Proven is one of the most distinctive and enjoyable flavors ever introduced to the vaping community. This masterpiece very accurately encompasses the taste of premium aged Caribbean rum. It is then enhanced with the slightest undertone of creamy coconut, rounding off the exhale exquisitely.
Proven short-fill by Proven is one of those rare flavors that can genuinely be classified as "extraordinary." Similar in profile to Suicide Bunny's smash hit, Mother's Milk, Proven is an intensely flavorful strawberry and cream blend that is unlike anything you have tried. The robustness and potency of flavor will blow you away from the very first hit. Smooth, velvety, and unequivocally scrumptious, Proven is pure vaping nirvana.
Route 44 short-fill by Proven is an exceptionally appetizing flavor that will never tire the taste buds and offers a well-balanced vape, unlike anything you have tried. This gem very accurately delivers the taste of a lemon-lime sherbet ice cream. Smooth, creamy, and unequivocally mouthwatering, Route 44 is sure to secure a solid place at the top of your all-time favorites list.