DADDY VAPES 160ML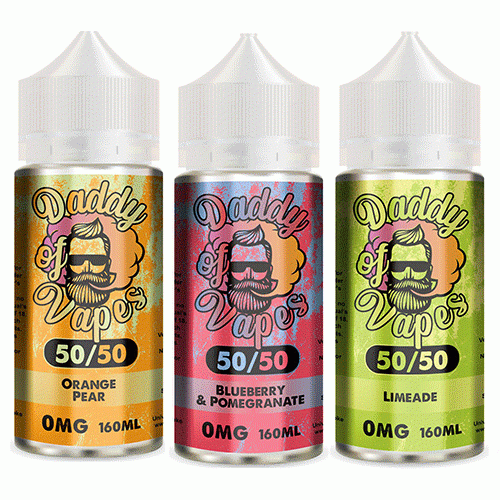 DADDY VAPES 160ML
DADDY VAPES 160ML


Daddy Vapes 160ml is a 50% VG 50% PG e-liquid. This ratio makes this liquid ideal for use in more advanced sub-ohm kits which provide more power and cloud production. This product is a 160ml short-fill e-liquid





Blueberry Lemonade:- Using a very common drink in lemonade and giving it a twist of Blueberry creates a very refreshing vape
Pineapple Mango:- The ultimate in fruit pairings, this juicy Pineapple and Mango vape are so vibrant with two very distinctive fruits in one vape.
Orange Pear:-The fusion of Orange and Pear was a moment of joy, this juicy flavour is mind-blowing.
Blueberry & Pomegranate:- This fruity Pomegranate with a slight bitterness of fresh Blueberries explodes in your mouth like bursting fruit.
Strawberry Lemonade:- Using a very common drink in lemonade and giving a strawberry flavour prole is what creates a wonderful Summer Vape.
Grapefruit & Mango:- This is the ultimate in a fresh vape, a bold grapefruit favour with Mango to just take the bitterness away.
Watermelon Mango:- An amazing Watermelon vape, with the distinctive taste of mango. Two real summer favourites blended into a vape to remember.
Lemon Meringue:- What can be said apart from fresh lemon with nicely toasted meringue, a true summer dessert vape.
Raspberry Sherbet:- This is a truly amazing blend of freshly picked Raspberry favour with a sherbet twist, is refreshing and vibrant.
Limeade is what it is, strong refreshing and a dad hat it is, strong refreshing and a dad