TANG ICE BLAST 160ML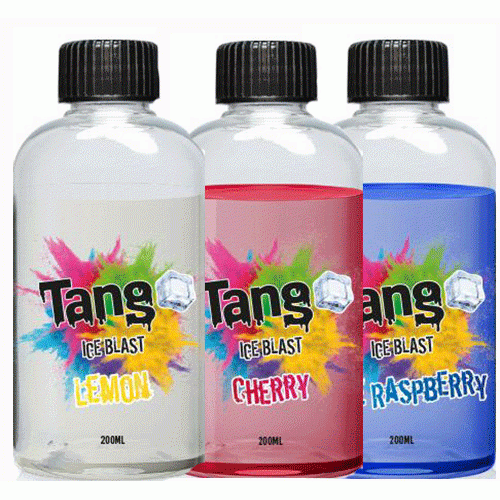 TANG ICE BLAST 160ML
Tang Ice Blast 160ml is a 70% VG 30% PG e-liquid. This ratio makes this liquid ideal for use in more advanced sub-ohm kits which provide more power and cloud production. This product is a 160ml short-fill e-liquid

TANG ICE BLAST 160ML
CHERRY
Tang cherry ice blast vape juice covers your craving for cherry and then some. Jump into a bowl of cherries with this e-liquid and invigorate your day. Fresh cherry flavour relaxes you on inhale. A white cloud of sweet cherry will surround you as you exhale. Red means go with Tang cherry.

PASSIONFRUIT
Dive headfirst with Tang passionfruit ice blast vape juice and let the sweet aroma wrap your senses. This e-liquid will grab and carry you ever so gently. Passion fruit is very much evident from the get-go on the first inhale. Then on the exhale taste the sweetness on tip of your tongue. Come test the heat and see if you can take it.
BLUE RASPBERRY
Tang blue raspberry ice blast vape juice will put a spell on you. This magical e-liquid reaches deep inside and satisfies with intensity. Enjoy a blast that was created in the past with an inhale of 50s blue raspberry. Exhale and smell the sweet raspberry in a dreamy cloud. Lift your day up with a blast that feels right.

BLOOD ORANGE
Colour your day bright with Tang blood orange ice blast vape juice and liven up your evening to the max. Tang blood orange ice blast e-liquid will make the difference that you are looking for in your day. Feel the fresh blood orange tangy taste roll in your mouth when you inhale. Then dive through a thick cloud of vapour on exhale. Live your days to the fullest.

MALAYSIAN MANGO

Tang mango ice blast vape juice is an aromatic blast that definitely leaves an impression. The sharp mango effect in this e-liquid is not for the faint of heart. Ride this beautiful wave and taste the real mango all the way on your inhale. Watch and embrace the huge cloud on exhale with a sense of adventure. The beach is sunny and the waves are high every day with a Mango ice blast.

SOUR WATERMELON
Lighten the load with Tang sour watermelon ice blast e-liquid and rest with the best. Tang watermelon ice blast vape juice is a light delightful experience that will energize with every single puff. On inhale immediately a cool sweet-sour watermelon fills your mouth that like a candy keeps on giving. A breeze with a hint of sweetness goes through as you exhale. Kick back and relax you deserve it.

STRAWBERRY KIWI
Tang strawberry kiwi ice blast e-liquid brings you to a wholesome fresh fruity experience. A juicy mix of sweet strawberry and tart kiwi will take over your taste buds with a cool sensation. Inhale and experience a light touch of strawberry with a hint of kiwi. Feel the cool and sweet mixture of the flavour roll of your tongue with each exhale. Kiss your days with love.
BLUE RASPBERRY & CHERRY
high with TANG blue raspberry and cherry vape juice and keep on swinging. This e-liquid flavourful wonder is to bring you to a new level of excitement. Blue raspberry will entice you right away on inhale that lasts as long as like. On exhale, you will find sweet cherry accommodating and so
LEMON
Tang lemon ice blast vape juice will deliver a blast of lemon as the name suggests. Lemon fizz e-liquid relaxes and swings your day with a fresh attitude. Inhale and take a ride into the wild side. the cool fresh lemon breeze will lead you on exhale. Freshen up and brighten your day with a fizz of lemon.