TANG SHERBET SHOCKER 160ML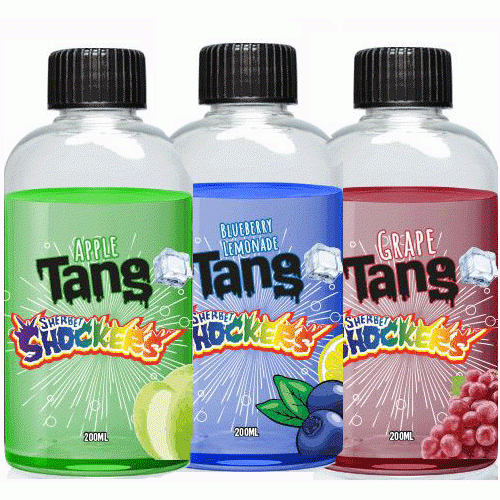 TANG SHERBET SHOCKER 160ML
Tang Sherbet Shocker 160ml is a 70% VG 30% PG e-liquid. This ratio makes this liquid ideal for use in more advanced sub-ohm kits which provide more power and cloud production. This product is a 160ml short-fill e-liquid

TANGO SHERBET SHOCKER 160ML
PG/VG 70/30
STRENGHT 0MG
Blackcurrant Lemonade:-

Fresh, fruity, and very cheeky this deliciously sweet Cool Grape e-liquid most definitely leaves a lasting impression. Tasting very much like the popular grape soda or grape pop drinks that the sweet-toothed drinkers
Grape:-

Fresh, fruity, and very cheeky this deliciously sweet Cool Grape e-liquid most definitely leaves a lasting impression. Tasting very much like the popular grape soda or grape pop drinks that the sweet-tinkers drink
Guava:-

Guava is a small, common tropical fruit found native to Mexico, Central America, and South America. The pink flesh is sweet and juicy, with tart notes. The taste and texture are best described as a blend between sour pear and strawberry.
Blueberry Lemonade:-

Blueberry Lemonade e-liquid, taking a lemonade flavor as its base and incorporating a sweet blueberry syrup for an extra fruity punch. Blueberry Lemonade by Fizzy is a drink flavor vape lover's dream featuring ripe and plump blueberries drenched with sweet fizzy citrus lemonade.
Blueberry:

-Blueberry e-liquid is a fresh and natural tasting liquid that is juicy and sweet. Taste the sharp ripe blueberries as the authentic infused blend of fruity berries cleanses your palette.
Raspberry:-

A genuine, tart berry flavour that's one of our bestsellers. This true raspberry e-liquid flavor leans more towards a sour vape, with enough sweetness to keep your cheeks relaxed.
Strawberry:-

Sweet, juicy and goes with just about anything, strawberry e-liquids are a firm berry favourite for a reason. Strawberry can be blended with other fruit, creams, desserts or menthol for a tangy and mouthwatering note that tastes like summer.
Rainbow:-

Rainbow E-liquid is a fruity mix of juicy citrus and vibrant berry and is candy-coated which gives it a sweet flavour. This max VG blend is perfect for sub-ohm devices and serious cloud chasers. Taste the rainbow with Pocket Fuel's Rainbow e-liquid.
Apple:-

Generally, they're characterized by an overall sweetness with crisp and fresh tasting notes. This creates a very strong and distinct flavor, which is why many e-liquid companies often feature apple as a flavor in its own right.