CHARLIE'S PACHA MAMA 50ML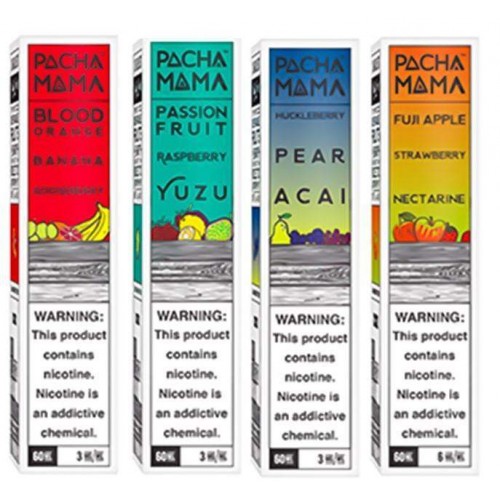 CHARLIE'S PACHA MAMA 50ML
CHARLIE'S PACHA MAMA
CHARLIE'S PACHA MAMA is a brand that was created by Charlie's Chalk Dust. PACHAMAMA the brand is dedicated to the natural flavors that fruit creates and has decided to bring you these delightful flavors in a vape juice that you can vape on all day! CHARLIE'S PACHA MAMA 50ml short-fill e-liquids purchased from us come with a free 18mg nicotine shot. Mixing in the nicotine shot will result in a 60ml of 3mg e-liquid. CHARLIE'S PACHA MAMA 50ml short-fill E-liquid is 50% VG 50% PG ideal for sub-ohm vaping. you can learn more about sub-ohm vaping on our blog.
Blood Orange Banana Gooseberry - This Blood Orange, banana, and gooseberry mix is definitely something you have never had before! 80/20

The Mint Leaf - honeydew, sweet berry and tangy kiwi with a fresh hit of mint. 70/30

Passion Fruit Raspberry Yuzu - this exotic mixture of passion fruit, raspberry and yuzu is!
Fuji Apple Strawberry Nectarine ! Sweet Fuji apple, with mouthwatering strawberry and nectarine. 80/20

Huckleberry Pear Acai - A delectable blend of sweet huckleberry, crisp pear, and exotic acai 70/30

Mango Pitaya Pineapple - fresh mango, pineapple and exotic pitaya ! 70/30

Peach Papaya Coconut Cream - Peaches, papaya and coconut cream 70/30

Strawberry Guava Jackfruit - Strawberry Guava Jackfruit a Strawberry - guava flavor and Jackfruit its Fresh d 70/30