B CARELESS DISPOSABLE KIT - 500 PUFFS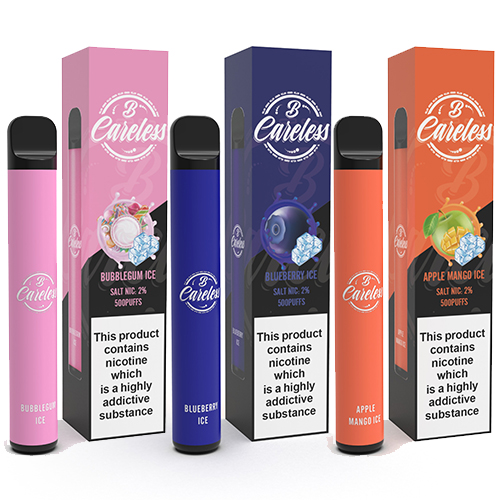 B CARELESS DISPOSABLE KIT - 500 PUFFS
PACK OF - 10

The B.Careless disposable device is a hassle-free, zero maintenance vape device, no setup or product knowledge is necessary. The B.Careless disposable is sleek and highly portable, its slim profile ensures it fits easily in your pocket.
The device is pre-filled with e-liquid equivalent to 30 cigarettes. Once the device is empty it can be discarded, no refilling or recharging is required.
The B.Careless disposable implements an MTL or Mouth to Lung style of vaping. This closely resembles the feeling of smoking a cigarette ensuring a seamless transition for those looking to quit smoking. The kit is draw activated meaning you don't need to press a button to inhale.
The kit is prefilled with nicotine salt, this type of liquid ensures a smooth throat hit and high levels of fast-absorbing nicotine
FEATURES:
No setup or maintenance
Beginner-friendly
Equivalent to 30 cigarettes
Draw activated
Small form factor
20mg or 2% nicotine
50% VG 50% PG
Mouth to Lung
Nicotine salt e-liquid
Available
FLAVOUR:
Apple Mango Ice - The sweetness of mango on the inhale is balanced by a touch of sourness derived from the apple. As you exhale the icy finish on the undertone results in a highly refreshing and cleansing aftertaste.
Blueberry Ice - A harmony of pleasant acidity and just the right amount of sweetness. As the initial flavour of blueberry settles, a cooling layer of ice introduces a new dimension to the experience resulting in a refreshing finish.
Bubblegum Ice - An array of fruity flavours complemented by sweet and candy-like notes. As you exhale a wave of ice adds balance and contrast to the aftertaste.
Cherry Ice - The signature cherry flavour on the inhale and exhale, the sweet and delicately tart flavour profile is enhanced by a cooling layer on the undertone.
Cola Ice - The perfect replica of an ice-cold cola, the famous flavour combines notes of sweet caramel and vanilla complemented by a layer of ice on the exhale.
Energy Drink - The familiar taste of mixed fruits sporting a sweet and delicately tart flavour profile on the inhale with a smooth fruity exhale and aftertaste.
Grape Ice - A full-bodied inhale with a pleasant amount of sweetness, as you exhale and a faint hint of tartness combines with a layer of ice for a crisp and refreshing aftertaste.
Guava - The sweetness of a ripe tropical pink guava fruit. As you inhale the tropical sweetness creates the perfect first introduction, balanced by mild acidity on the exhale.
Lush Ice - A refreshing combination of juicy in-season watermelon complemented by a cooling layer of ice. As you inhale the sweetness of the watermelon is consistent throughout with cooling undertones coming through on the exhale.
Lychee Ice - A sweet blend of freshly picked lychees with an icy finish. As you inhale the highly sweet rose-like flavour is enhanced by a delicate note of tartness on the exhale, enhanced further by a layer of ice on the aftertaste.
Mango Ice - A tropical medley of juicy mangos featuring a delectable sweet inhale. As you exhale the naturally found acidity pairs well with a cooling undertone for a refreshing finish.
Peach Ice - A smooth peach on the inhale, the floral notes are paired with an appropriate level of sweetness which pairs well with a cooling layer of ice on the exhale.
Raspberry Watermelon - A sharp raspberry inhale with a tart and acidic flavour profile perfectly complemented by a sweet and juicy watermelon on the exhale.
Sour Apple - A naturally refreshing green apple blend. As you inhale the highly acidic flavor of green apple is paired with a hint of sweetness for a sharp flavour profile that lingers on your palette as you exhale.
Strawberry Ice Cream - The classic combination of sweet and tangy strawberries on the inhale is complemented perfectly by a dollop of homemade ice cream on the exhale.