BIG DRIP 100ML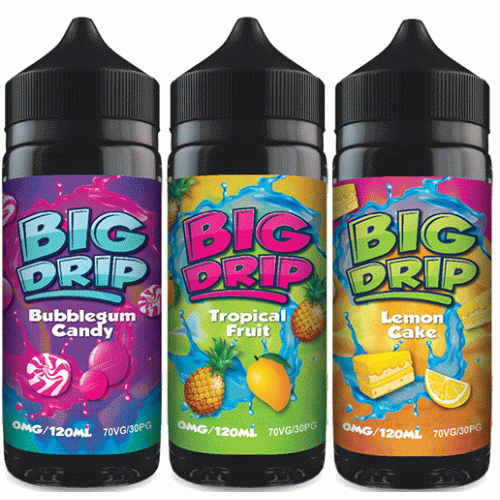 BIG DRIP 100ML
Big Drip is a sub-range by renowned UK e-liquid connoisseurs, Doozy Vape. Focusing on distinct fruity flavours, these blends are available in 100ml short-fill bottles with space for 2 x 10ml nicotine shots. Featuring a 70% VG 30% PG ratio, these work best in sub-ohm devices and tank with an emphasis on large cloud production.
PG/VG:70/30

STRENGTH:-Omg

Tropical Fruit
A juicy blend of Pineapple and Passion Fruit with the unforgettable taste of Sweet Mangoes.
Blue Raspberry
A sweet combination of Blue Raspberries with a Tangy Twist that delivers a mouth watering experience.
Lemon Cake
A slice of your favourite Sponge Cake, infused with Lemon. A deliciously smooth and creamy dessert making this an irresistible treat.
Raspberry Mojito

Perfectly ripe Raspberries and Sugarcane with a splash of Citrus. This refreshing combination is the perfect Cocktail.
Cherry Cola Bottles
A classic Pick N Mix treat of Sweet Cherry followed by an explosion of Fizzy Cola.
Bubblegum Candy
A mouthwatering combination of Candy with sweet Bubblegum and a hint of spearmint makes this flavour a tasty treat!
Watermelon Chill
Juicy Chunks of Sweet Red Watermelon Infused with Ice.
Frozen Mango
Slices of Succulent Mango mixed with Crushed Ice, so tasty it's hard to put down!