CANDY MAN TAFFY 100ML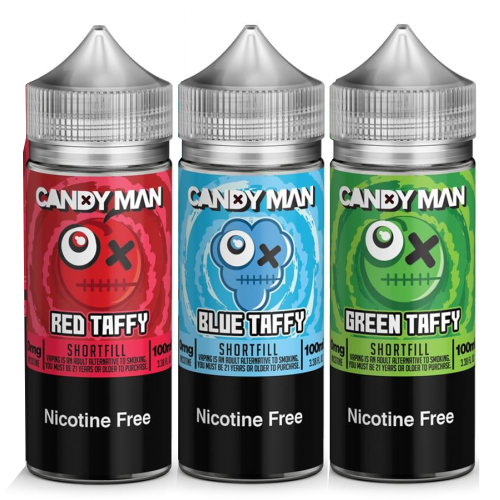 CANDY MAN TAFFY 100ML
Blue Taffy

- A mouthwatering blast of sharp blue raspberry in a sticky sweet taffy! A classic, packing sweet blue raspberries into a smooth, creamy taffy!
Green Taffy

- A sweet blend of creamy taffy infused with refreshing green fruits! A medley of fresh green fruits are packed into a smooth taffy, creating a beautiful flavour!
Pink Taffy

- Bringing together a juicy burst of summer strawberries and creamy taffy for a thick vape you can almost chew! A sweet, fizzy strawberry candy fills a smooth, creamy taffy for a tantalizing vape!
Red Taffy

- A sweet and sour chew of juicy cherry taffy e-liquid that's as delicious as the real thing! A sweet creamy taffy is filled with fresh, juicy cherries to create a magnificent vape!
This fantastic brand features a concentration ratio of 70% VG (Vegetable Glycerin) and 30% Mixed PG (Polypropylene Glycol) and high-quality food flavorings. A perfect blend for sub-ohm vaping!
Keep it 100 e-liquid is available as 100ml of e-liquid in a 120ml shortfill bottle, with space for two 10ml nicotine shots of your choice. For example, adding two 10ml, 20 mg nic shots
100ml of E-Liquid in a 120ml Short fill Bottle

0mg Nicotine Strength

Room for Two 10ml Nicotine Booster Shots

70% VG / 30% PG

Designed for Sub Ohm Vaping

Made in the USA

Recyclable Bottle

Childproof Cap

Tamper Evident Seal