CHUFFED FRUITS 100ML
CHUFFED FRUITS 100ML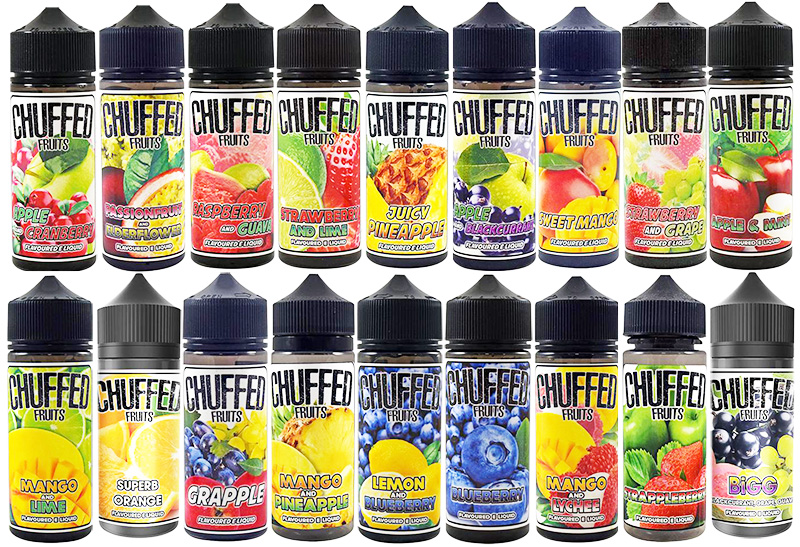 Acai Fruit Pot The refreshing tones of mixed fruit are blended beautifully with a squeeze of the juicy acai berry to create this divine liquid.
BiGG An Amazing blend of ripe Blackcurrants, Grapes & Guava fruits that will surely satisfy the taste buds.
Strappleberry Fresh juicy apples with succulent strawberries.
Blueberry What more can we say, a nice simple flavour, sweet blueberries in a vape juice.
Grapple Grapple by Chuffed Fruits is a refreshing E-liquid featuring a juicy mix of delectable dark grapes smashed together with sweet-sharp citrus apples to create an irresistible combination that not only tastes great but has an aroma to match.
Superb Orange Zesty and refreshingly sweet, discover the Superb Orange flavoured e-liquid from Chuffed.
Mango & Pineapple A refreshing blend of exotic fruits, fresh mangoes with ripe pineapples.
Lemon & Blueberry Lemon and Blueberry by Chuffed boasts zesty lemons and fresh juicy blueberries.
Mango & Lime is a delicious fruity flavour mixing some sweet mangoes and juicy limes for a fantastic e-liquid!
Mango & Lychee is a delicious fruity flavour mixing some sweet mangoes and exotic lychees for a fantastic e-liquid!
Apple & Mint Is a pure, crisp, and juicy Apple flavour with a cool and refreshing burst of Mint.
Strawberry Grape Is a carefully blended mixture of juicy strawberries and sharp grapes.
Sweet Mango by Chuffed is tropical vape of sweet and ripe Mango with juicy fruit notes through the entire vape
Juicy Pineapple Chuffed Fruits Juicy Pineapple is a tropical flavour consisting of freshly picked pineapples.
Passionfruit and Elderflower Elderflower and Passion fruit will amaze your taste buds with a delicate and unique flavour.
Apple And Cranberry
Chuffed Fruits Apple & Cranberry is a sweet blend of fresh apples, with notes of sharp cranberries throughout.
Raspberry And Guava Chuffed Fruits Raspberry & Guava is a delicious blend that features tropical pink guava and sweet, juicy raspberries.
Apple And Blackcurrant Chuffed Fruits Apple Blackcurrant is a refreshing beverage flavour consisting of fresh apples and sharp blackcurrants.
Strawberry And Lime Strawberry and Lime in the Fruits range has a perfectly blended mix of sweet strawberry and citrus lime.