CUTTWOOD 50ML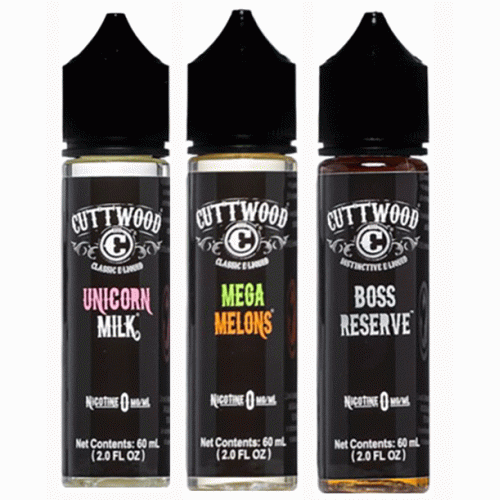 CUTTWOOD 50ML
Cuttwood E-liquids 50ml
Short Fill Eliquids come in a 60ml bottle with no nicotine (0mg). The benefits of this are twofold, you can have your e-liquid in a bigger bottle just like in the good old days and you can also save yourself a lot of money as they work out much cheaper.

Based in Los Angeles California, Cuttwood e-liquids (also known as the boss of liquids) is one of the best e-liquids available in the world. Despite the funky rustic logo and packaging that suggests each bottle was made by a cowboy in a midwest bar, Cuttwood E-liquids are renowned for their product research and development. To ensure each and every bottle is of the best vaping quality, only the highest grade ingredients are used.
FLAVOURS
Boss Reserve: A golden honey graham cereal with roasted nut clusters, Drenched in creamy milk and layered with sliced bananas.
Mega Melons: A trifecta of Mango, Cantaloupe and Papaya creates this delectable cocktail of tropical fruit flavours.
Mr Fritter: E-liquid is a dessert blend with a distinct taste. A juicy apple taste provides the base of the e-liquid, with strong notes of spicy cinnamon.
Sugar Drizzle: A superb balance of Cinnamon bakery meets creamy milk to create an all-day vape that hits those breakfast cereal notes your taste buds crave.
Tobacco Trail: Tobacco Trail e-Liquid from Cuttwood Sauce is their first foray into a classic tobacco taste, featuring Tobacco leaves along with notes of sweet Honey.
Unicorn Milk: A perfect blend of four fresh creams and enhanced strawberry extract.
Manic Mint: The pure peppermint flavour is complemented with a touch of sweetness and ice.
Livid Lime: Enjoy the fresh, bold lime taste from inhale to exhale with this stunning one-note flavour.