DESSERT SPLASH 100ML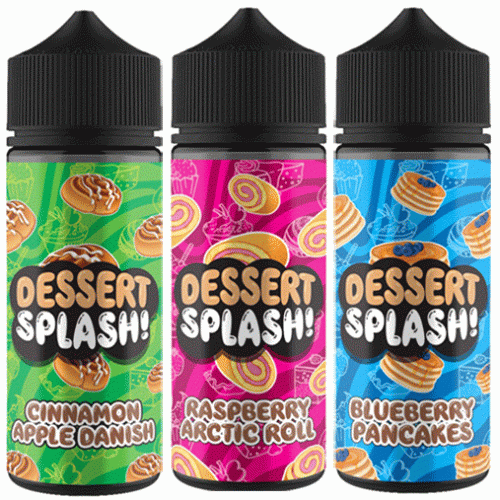 DESSERT SPLASH 100ML
Dessert Splash e-liquid is available as a 100ml short fill with space for two 10ml nicotine shots of your choice. For example, adding two 10ml, nicotine shots to this 100ml short-fill will create 120ml of 3mg e-liquid.
This fantastic brand features a concentration ratio of 70% VG (Vegetable Glycerin) and 30% Mixed PG (Propylene Glycol) and high-quality food flavourings. A perfect blend for sub-ohm vaping!
PG/VG:-70/30
Strength:- 0MG
FLAVOURS
Cinnamon Apple Danish:-The buttery danish pastry blended with ripe apples and sharp cinnamon spice.
Raspberry Arctic Roll:-The classic British dessert, a moist sponge with vanilla notes topped with a succulent raspberry sauce.
Blueberry Pancakes:- A breakfast favourite. the creamy breakfast pastry topped with a crushed tart blueberry sauce.
Lemon Drizzle Cake:- A decadent sponge with zesty lemon for the authentic citrus vape.
Strawberry Waffles:- A rich buttery waffle complemented by the sweet fresh summer strawberries.