DOOZY DESSERT 50ML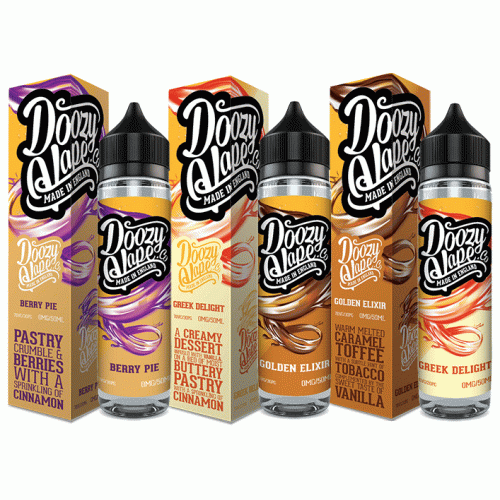 DOOZY DESSERT 50ML
DOOZY DESSERT 50ML




The Doozy Dessert Collection, from Doozy Vape Co, is a nicotine-free range of fruit and ice blends for a refreshing, flavour-filled vape. 50ml of e-liquid in a 60ml Short-fill Bottle, Space For a 10ml Nic Shot, 70% VG / 30% PG, Designed for Vaping, Made in UK, Childproof Cap



PG/VG:70/30
STRENGTH:-Omg
Greek Delight
A rich and creamy dessert with a melt-in-your-mouth blend
of Vanilla, cinnamon, and soft buttery Pastry
Liquid Gold
A perfect blend creating the ultimate dessert vape. You will pick up the
sweet yet delicate vanilla custard & light pastry, drizzled with syrup,
topped off with a dollop of thick cream. The deeper the inhale, the richer
it becomes! The exhale ensures maximum enjoyment of this absolutely
amazing juice.
Dream Shake
Award Winning! Best chocolate flavor for our luxurious chocolate
cookie milkshake. A serious milkshake blended to perfection with
whipped cream. All of the tastiness with zero calories!
Berry Pie

Pastry crumble with a smooth satisfying blend of berry and cinnamon
that oozes warmth and flavor! This vape will take you back to your
favorite dessert and leave you yearning for more
Golden Elixir
A smooth tobacco perfectly combined with caramel toffee and a hint of
vanilla. This Golden mixture will leave you mesmerized. The taste of
warm melted toffee, enshrouded in a smooth tasting tobacco with the
vanilla making it all a very special experience. The exhale begins with
the tobacco notes quickly turning into velvety plumes of caramel
yumminess.