DOOZY FLAVA JUNKI - 120 ML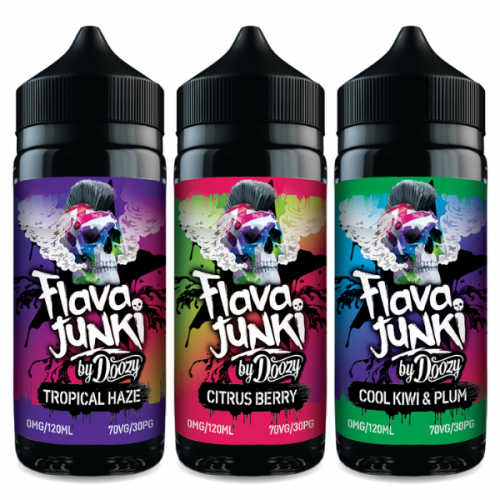 DOOZY FLAVA JUNKI - 120 ML
Flava Junki Frozen Berries E-liquid is available as 100ml of e-liquid in a 120ml shortfill bottle, with space for 2 x 10ml nicotine shots to be added. For example, adding 2 x 10ml, 18mg nic shots will create 120ml of 3mg e-liquid.
These e-liquids feature a 70% VG blend, providing large cloud production without reducing flavour when used with a sub ohm vape kit or tank.
Specifications:
100ml of E-liquid in a 120ml Short fill bottle
Space For 2 x 10ml Nic Shots To Be Added
The PG VG Ratio is 70% VG / 30% PG
Designed For Sub Ohm Vaping
Made In The UK
Childproof Cap
Tamper Evident Seal
Recyclable Bottle
Flavours:
Citrus Berry

Forest Berries with a Citrus Twist. An amazing variety from Mulberries to Blackberries soaked in Sweet Lemonade with a dash of Sour Lime. A Berry Nice combination that will keep you coming back for more.
Tropical Haze

An Amazing blend of Guava and Passionfruit with a Fizzy aftertaste that gives this Juice the Haze! A wickedly delicious combination that whisks you away to a special place on your very own Island. Enjoy the Fruits of Paradise and treat your taste buds to a Truly Tropical experience
Blue razz & Lime

A Mesmerising Mix of Blue Raspberries and Lime. A nice Blue Candy Berry that is followed by a Wave of Sharp Lime with a hint of Gummy to make this flavour extra special. A Tasty Treat so good you just don't know when to stop!
Frozen Berries

This flavour needs no Introductions as one of the Legendary Flavours from the Doozy Salts Collection. This Incredible flavour is a Concoction of Crisp Juicy Berries with Crushed Ice. Each drop delivers a divine Burst of Berries so ripe and Sweet it's hard to resist.
Cool Kiwi & Plum
The irresistible taste of Juicy Plums mixed with Sweet Nectar wrapped in Tangy slices of Kiwi. A nice wave of coolness as you exhale combines the flavours into a perfect blend of yummy cloud and the flavour gets better with each hit.