IFRIT BAR DISPOSABLE KIT-POWERED BY INNOKIN-400 PUFFS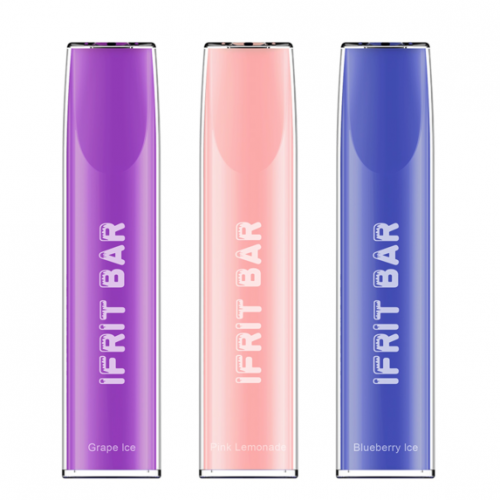 IFRIT BAR DISPOSABLE KIT-POWERED BY INNOKIN-400 PUFFS
PACK OF - 10

PRODUCT DETAILS
The IFRIT Bar is a disposable vape device filled with nicotine salt-based e-liquid in a range of popular flavours. There's no need to refill it with e-liquid, charge it, or change any pods or coils. Simply inhale to vape.
Flavours:
Blueberry Ice
Grape Ice
Peach Ice
Pink Lemonade
The IFRIT Bar is compact and light, perfect for using while travelling, commuting, on nights out or just as a handy backup device. With a 260mAh battery, each lasts for up to 400 puffs and powered by INNOKIN.
Use according to instructions and ensure that the product is out of reach to children. Please note that this product may also contain traces of nuts.
SPECIFICATIONS
1.6ml e liquid
~400 puffs
260 mAh battery
20mg nic salt strength
WHAT'S INCLUDED
1 x IFRIT Bar