WOCKET POD SYSTEM KIT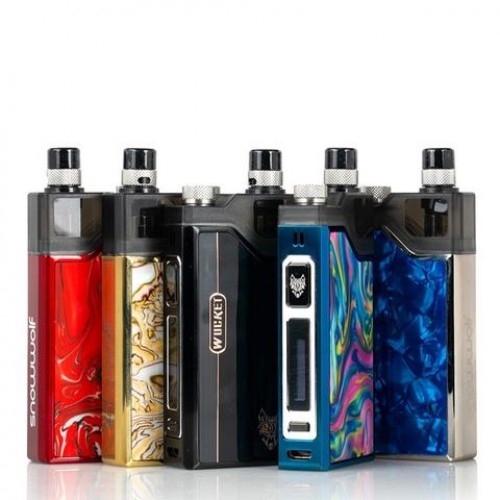 SNOWWOLF - WOCKET POD SYSTEM KIT
The SnowWolf WOCKET Pod System is a sensational all-in-one vape kit, implementing an integrated 1150mAh rechargeable battery, NiChrome coil composition, and built with lightweight aluminum alloy with high-end impression. The integrated battery maintains an impressive 1150mAh capacity that can be used throughout the day providing vapor at the touch of the fire button. The power output is fully adjustable, providing three preset firing levels can be used to determine the preferred strength of hit for the user. Bundled together with a proprietary chipset, the WOCKET Pod system is sure to be a favorite with its aesthetically pleasing lightweight aluminum-alloy chassis construction, protecting the large capacity battery inside.
DESCRIPTION:
Dimensions - 113.3mm by 24mm by 23mm
Integrated 1150mAh Rechargeable Battery
Resistance Range: 1.2-3.0ohm
Coil Support: NiChrome
3 Preset Firing Levels - High, Medium, Low
Aluminium Alloy Chassis Construction
Oversized Intuitive Firing Button
BUTTON?
OLED Display Screen
2mL Juice Capacity
Threaded Top Fill System
Proprietary Pod Connection
Unique Colorful Resin Drip Tip
SnowWolf Wocket Coil Compatibility
0.7ohm X-Grid Coils - Iron Chromium Aluminum A1
MicroUSB Port
Includes:
BOX INCLUDE
1 WOCKET Pod Device
1 WOCKET Pod Cartridge
2 0.7ohm X-Grid Replacement Coils
Instructional Manual
Warranty Card