COOL FIRE 4 TC100 STARTER KIT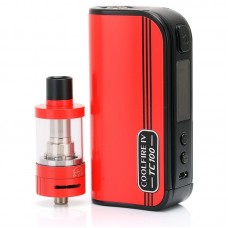 INNOKIN COOLFIRE4 TC100 AETHON - STARTER KIT:
The Innokin CoolFire4 TC100 is powered by the Ultra-fast advanced AETHON chipset with 100W of pure power with ClearWave noise cancellation technology. The CoolFire4 TC100 uses the variable Temperature Control system with 100W output which includes Titanium, Nickel200, and Stainless Steel in TC Mode. Coming with long lasting internal 3300mAh battery, the CoolFire4 TC100 is designed to be one of the top-of-the-line compact all day vapes. The CoolFire4 TC100 is able to utilize fast 2Amp charging and features a greater range of Temperature Control & Variable Wattage, advanced safety protections and Vape while charging Technology. The CoolFire4 TC100 has a flush 510 connection with a spring loaded gold-plated positive pin and durable stainless steel threading. Operated via three durable buttons with a large, bright OLED screen on the base, the CoolFire4 TC100 is easy to use, stylish and powerful.
DESCRIPTION:
100W
Internal 3300mAh Battery
Complete range of T.C. Modes (SS, Ni200, Ti)
Total T.C. Dry Hit Prevention & Quick Calibration
UltraFast response: .2 seconds from Click to Vapor
VDC power output with ClearWave noise cancellation
Precise Coil Resistance Reading (.00000)
Uniform coil heating eliminates hotspots
25 – 100W Temperature Control RampUp preBoost
High quality stainless steel 510 threading
Spring loaded gold plated connector pin
2AMP microUSB Quick Charge
Integrated charging safety protections
Ultra-low standby power consumption
BOX INCLUDE:
1 x Coolfire IV TC 100W Mod
1 x iSub V Vortex Tank
1 x pre-installed iSub SS BVC Coil
1 x spare 0.5Ω iSub KAL BVC coil.
1 x Micro USB Charging cable
1 x Spare O-Rings for the tank
1x Spare Delrin Drip Tip
1 x Rubber Vape Band
1 x Instruction Manual & easy set up guide