SMOK G-PRIV 3 KIT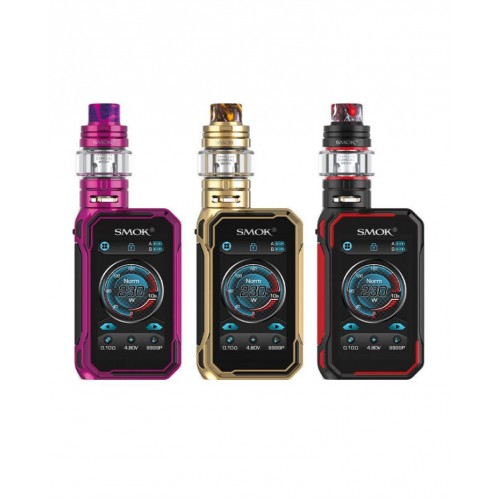 SMOK G-PRIV 3 KIT
Details:
Smok G-PRIV 3 Kit is the latest stylish box mod from the G-PRIV series, which comes with a full upgrade in both software and hardware. It consists of G-PRIV3 Mod and TFV16 Lite Tank. It is powered by dual 18650 batteries that can fire up to 230W. G-PRIV 3 is equipped with a new IQ-G chipset which reduces the firing time to 0.001S. Also, Smok G-PRIV 3 has a bigger 2.4-inch touch screen while G-PRIV 2 kit is only 2.0 inch, you can see the information more clearly. Also, there are 6 theme colours available for the screen settings to make your life colourful. And its back panel adopts an acrylic shell pattern panel with a soft and smooth texture, whose vibrant colours make the whole mod more trendy and modern. TFV16 Lite tank has 5ml e-juice capacity, which can guarantee lasting vaping pleasure. The tank coupled with a conical mesh coil (powered by nexMesh Technology) and a double mesh coil. And the position of the gasket is at the bottom of the top cap which makes the filling slot cleaner and prevents e-liquid leaking at the same time. In addition, the TFV16 Lite tank has a lock button on the top cap which can ensure safe use of the tank.
Functions:
1. Full upgrade in both software and hardware
2. Powered by a new IQ-G chipset, which can deliver up to 230 watts of power
3. 2.4-inch large touchscreen, quick response to your needs
4 Newly updated user interface provides clearer and more detailed vaping information
5. Adopt an acrylic shell pattern panel with a soft and smooth texture
6. Ergonomically designed bevelled edges
7. Fit perfectly on palm for comfortable grip
8. The secondary key makes it easy to lock/unlock the screen
9. Battery replacement is convenient and safe
10. Faster transmission with USB-C port, supports 2A super fast charging
11. Multiple protections: Intelligent Atomizer Recognition, Puff Monitoring System, 10 Second Cut-off, Short Circuit Protection, Overheat Protection, Low Battery Warning
12 . Brand new honeycomb textured mesh design is applied to TFV16 Lite
13. Tank. 810 16mm diameter resin drip tip
14. Updated airflow system for best flavour and airflow
15 . Innovative atomizer base design to fully improve product quality and make airflow smoother.
16. Top Refill System Design
Technical Data: Mod Smok G-PRIV 3
Size: 54 * 28 * 85mm
Chip: IQ-G chipset
Battery: two 18650 cells (not included)
Power range: 1W-230W (VW) / 10-230W (TC)
Input voltage: 6.4V -8, 4 V
output voltage: 0.5 V-8.2 V
firing time: 0.001s
Porta charging: type-C
charging voltage: 5 V
charging current: 2.0A
standby current: <400uA
resistance Range: 0.1ohm-2.5ohm (VW) / 0.05ohm-2.0ohm (TC)
Temperature range: 200 ° F-600 ° F / 100 ° C-315 ° C
Screen: 2.4 inch touch screen
Mode of work: VW (Soft, Norm, Hard, Max) / TC (NI, TI, SS, TCR, Preheat) / My Mode
Tank Smok TFV16 Lite
Size: 28 * 58.5mm
Capacity: 5ml
Filling: Top Refill System
Material: Stainless Steel
Coils: TFV16 Lite Conical Mesh Coil, 0.2ohm, powerful and warm throat hit, best: 60-75W;
TFV16 Lite Dual Mesh Coil, 0.15ohm, Massive Cloud Production and Rich Flavor, Better: 60-90W
Thread: Gold Plated 510 Thread
Package Include:
1 x G-PRIV 3 Mod 1 x TFV16 Lite Tank (5ml)
1 x TFV16 Lite 0.2ohm Conical Mesh Coil powered by nexMesh (pre-installed)
1 x TFV16 Lite Dual Mesh Coil 0.15ohm
1 x Glass Tube Replacement
1 x USB Cable
1 x User Manual
Spare Parts