TELEOS REMIXED 100ML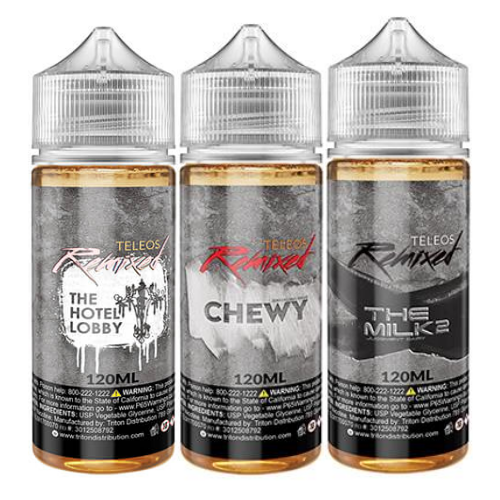 TELEOS REMIXED 100ML
TELEOS REMIXED 100ML
The Milk 2

- If this were Hollywood, we'd be running this back a little too fast. Even they can't crank out a (good) sequel in 5 months. But this isn't Hollywood, and we're Teleos.
Built on The Milk Platform, this delightful treat is pretty straightforward. Since just about everyone asked us to do it, we present to you a cinnamony, toasted, crunchy milk. Once again, Momofuku, we salute you.
PRIMARY FLAVORS: CINNAMON, SUGAR, CEREAL, MILK
Chewy

- This one was tough for us. We've wanted to do something with yogurt for a while, but not a tart yogurt. Rather, we wanted that sort of 1990s American punch-you-in-the-face with flavor sweet yogurt. We also wanted to do a granola. We thought to ourselves, "why not both?"
So we took one of those absurdly delicious cereal bars, dipped it in yogurt, and let it set. The result, Chewy.
PRIMARY FLAVORS: STRAWBERRY, YOGURT, GRANOLA
Pound Cake

- Because you didn't walk into that coffee shop for coffee. This is a remix not of one of our own juices, but rather, the rest of the market's. None of the poundcakes available were doing it for us. "Not enough frosting" we'd say, or "not enough cake," or "too much lemon."
Ours has lots of cake, lots of frosting and the right amount of lemon. The only difference between ours and that nationally recognized coffee chain's is that we don't use a pound each of butter, sugar, eggs, and flour. Rather, we make it in a lab, where we can do that whole "guilt-free" thing.
PRIMARY FLAVORS: CAKE, LEMON, FROSTING
The Hotel Lobby

- As the classic poet said: "Then after the show, it's the after party And after the party, it's the hotel lobby"
We've been messing around with marshmallow for a while. Since Crunch, actually. Originally intended, in part, to be a variant of The Afterparty, it has since morphed into its own unique monster.
On it's own, marshmallow is a sort of empty taste. We found suspending it in the essence of another flavor to bring out the sweetest, yummiest notes was a necessity. For The Hotel Lobby, that flavor is the slightest hint of peach.
PRIMARY FLAVORS: MARSHMALLOW FLUFF, PEACH AIR