WHY SO CEREAL 120ML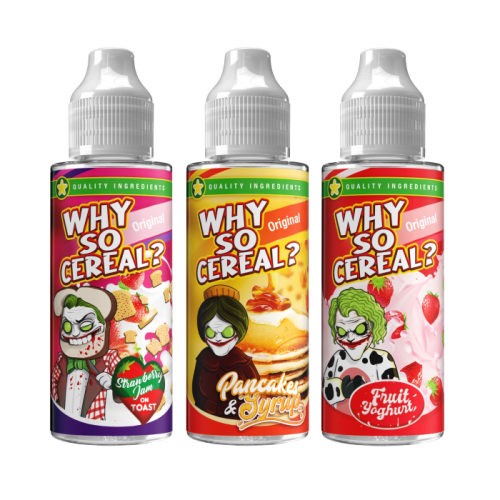 WHY SO CEREAL 120ML
WHY SO CEREAL FLAVOURS
STRAWBERRY JAM ON TOAST -

Fresh strawberry jam lathered all over a crunchy toast base. The perfect balance of sweet fruit with a slight savoury crunch to create a delectable taste you will never tire of.



PANCAKES & SYRUP -

Warm stack of fluffy pancakes drowned in golden syrup. The ultimate breakfast indulgence that you won't be able to get enough of.



FRUIT YOGHURT -

Sweet creamy yoghurt combines with fresh fruit to make this the perfectly refreshing flavour to start your day off right.



IRISH TREASURE -

Crunchy wheat cereal complimented by sweet fluffy marshmallows floating on a creamy milk base. The magical luck of the Irish makes this a flavour an absolute pot of gold.



CREAMY BANANA HONEY OATS -

Who said the healthier choice doesn't taste better? Creamy oats mixed with sweet honey makes for the perfect all day vape.



SUGAR FLAKES -

Crunchy cereal flakes coated in sugar with a creamy base makes this the ultimate all day breakfast flavour. There's no bad time for cereal right?