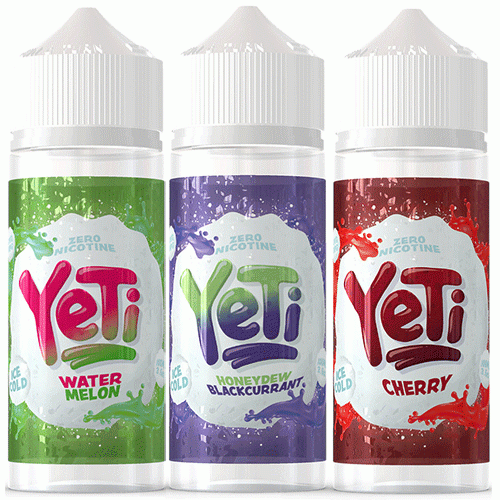 YETI ICE COLD 100ML
YETI ICE COLD 100ML
Made in USA
PG/VG:70/30
STRENGTH:-Omg
Apple Cranberry
Refreshingly cool, Yeti e-liquid has combined the sharp sweet taste of juicy cranberries with crisp green apples into an ice-cold vape juice blend!
Energy
Looking to fill your tank with that little extra spark to get you going? Yeti liquids have given a sweet taste of energy drink their signature frosty flavour!
Blue Raspberry
The Yeti lived through the nineties so knows just how delicious a splash of ice-cold blue raspberry can be, that cool blend of sharp and sweet fruit makes the perfect vape juice!
Cherry
In the middle of the Yeti's favourite snowballs is an authentic blend of sweet and sour cherry syrup liquid, this is one snowball fight that we don't mind losing!
Grape
Dark grapes always make for a winning vape juice and Yeti liquids have gone the extra mile by blending that rich fruity flavour with their signature ice cold slushy!

Lemonade
The best way to enjoy a sharp and refreshing lemonade is ice cold, of course, Yeti eliquids are serving up this citrus vape juice sweet, fizzy and frozen, just like it should be!
Orange Mango
An ice-cold taste of tropical fruit, Yeti liquids have given the frosty touch to sharp oranges and smooth mango in a delicious juice combo!
Strawberry
An ice-cold taste of summer fruit, Yeti liquids have given the frosty touch to sweet strawberries, capturing their juicy goodness!
Watermelon
The Yeti is smashing together the taste of summer and winter with this delicious frozen fruit e-liquid full of watermelon slices!
Honeydew Blackcurrant
An ice-cold blend of light honeydew melons backed up by rich and juicy blackcurrant, Yeti liquids have nailed this fruity vape juice combo!
Blueberry Peach
Get ready for the smoothest snow cone around! Juicy blueberries and a splash of soothing peach are given the Yeti's signature ice treatment in an irresistible vape juice!
YETI ICE COLD 100ML