ZENITH 100ML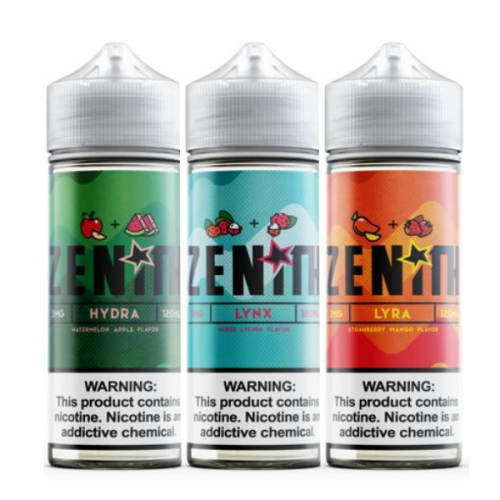 ZENITH 100ML
Zenith 100ml is a 70% VG 30% PG e-liquid. This ratio makes this liquid ideal for use in more advanced sub-ohm kits which provide more power and cloud production. This product is a 100ml short-fill meaning there is 100ml of e-liquid in a 120ml bottle
ZENITH FLAVOURS
Orion - A delicious, balanced blend of succulent raspberries and freshly squeezed lemonade, Orion is love at first taste. The inhale draws in the sweet natural flavour of raspberries freshly plucked from the earth. The exhale delivers a perfectly polished lemonade essence, one that is equally as tart as it is juicy.
Draco is a simple, yet exceptional, medley of blue raspberries and lemonade made with premium ingredients. Draco starts with a sweet inhale, trailed by a subtle tartness, which lingers on your tongue making your mouth water for more. On the exhale, the blue raspberry lemonade flavour harmonizes to release a refreshing, light, and euphoric sensation.
Lyra - is a delightful concoction of the sweetest and most fragrant mangoes derived from the Eastern hemisphere, infused with a subtle splash of strawberry. It differs from other e-liquids from Zenith E-Juice due to its rich and succulent taste.
Hydra - is a watermelon-apple blend that will have you experiencing pure. Its inhale draws a sweet throat hit and for a moment time is frozen and all is right in the world. As you exhale, the day's stress is lifted away with the clouds and all that's left is a palatable apple taste that idles on the roof of your mouth and in your nostrils.
Lynx - It is a combination of a variety of lychee strains cultivated from different parts of the world. The inhale delivers a sweet, juicy burst that floods your mouth and fuels your tastebuds. The exhale releases a string of floral notes and aromatic scents.
FEATURES
Package - 1 X Bottle