BEYOND BY IVG 100ML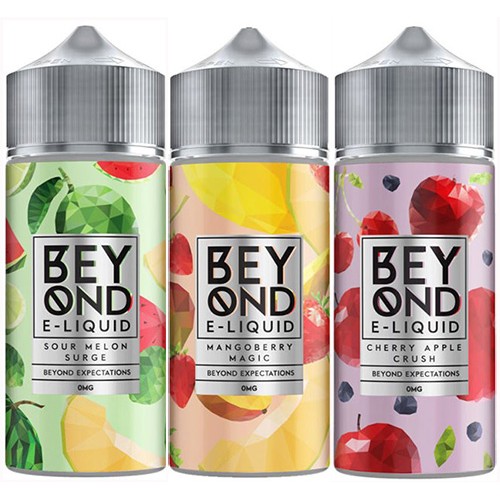 BEYOND BY IVG 100ML

BEYOND BY IVG 80ML

Beyond e-liquid is available as 100ml of e-liquid in an 80ml liquid short fill bottle, with space for two 10ml nicotine shots of your choice. Adding two 10ml, 18mg nic shots will create 80ml liquid of 3mg e-liquid. This is a 70% VG & 30% PG e-liquid which is ideal for creating larger clouds without the overall diminishing flavor. For best results, we recommend pairing it with a sub-ohm vape kit or tank.
Nicotine: 0mg
Bottle Size: 100ml with 80ml liquid
Ratio: PG30/VG70
Made in UK
Kiwi Passion Kick Exotic kiwis are mixed with freshly picked cranberries in this colada-infused e-liquid juice. You get a sweet, sour, and icy inhale, leaving your mouth feeling refreshingly fruity long after.
Berry Melonade Blitz is a simple fruit with a bold taste. The sharp yet the sweet blueberry flavor is present from inhaling and exhale of melon and lemonade for a distinct vape.
Sour Melon Surge gives you the right amount of watermelon flavor and then covered in sweet and sour crystals. childhood candy classic, juicy watermelon gummies coated in sugar to round off your nostalgia trip!
Dragon Berry combines the tart but sweet flavor of raspberries and blueberries with exotic dragon fruit. Then, to set the whole flavor sensation off, we added a touch of cooling.
Mango Berry Magic is an exotic, ripe Mango flavor on the inhale, followed by a sweet sugary sherbet on the exhale. A fresh-tasting and juicy mango flavor are present throughout, accentuated by a sugary sherbet for a distinct e-liquid.
Cherry Apple Crush is a fruity blend of sweet and juicy Cherries on the inhale, complimented by a tart, crisp Apple on the exhale. Cherry Apple serves up a rich, bittersweet fruit flavor for your enjoyment