CANDY KING SALTS 10ML - PACK OF 10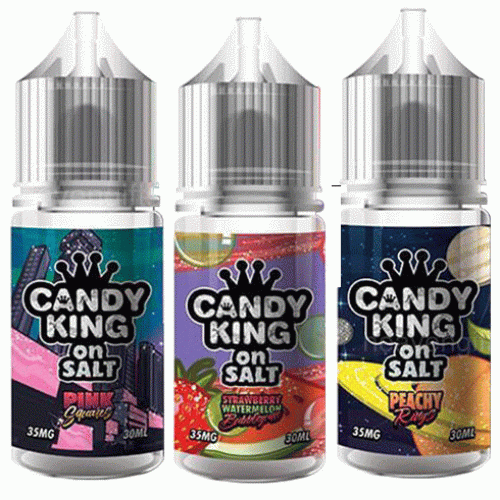 CANDY KING SALTS 10ML - PACK OF 10
PACK OF 10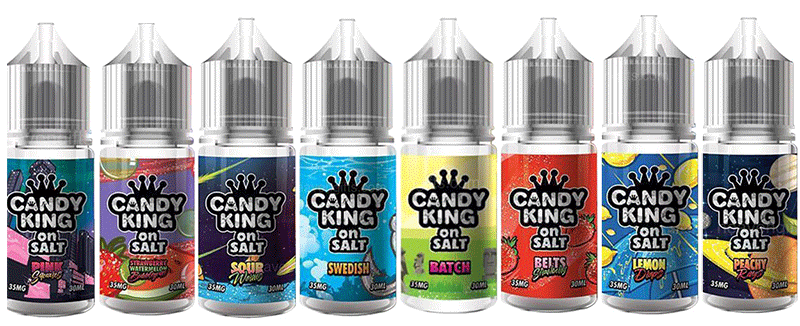 CANDY KING SALTS 10ML
BATCH - Experience a handful of sweet and sour gummy candies perfectly blended to give you that distinct taste that is reminiscent of the classic Sour Patch Candy.
STRAWBERRY BELTS - Chewy strawberry delicately blended with sweet and sour notes dashed with crystallized sugar for a blissful candy experience.
LEMON DROPS - A mouthwatering combination with just the right sweetness and zest that will surely make your mouth pucker with delight.
PEACHY RINGS - Made from delicious peaches making its way through your taste buds and hitting you with that sweet aroma with a mild zesty aftertaste.
PINK SQUARES - Lavish in the classic taste of the childhood favorite juicy and sweet pink square candy as your taste buds crave for more with every hit.
SOUR WORMS - Blended to re-create the classic sour crawler gummy worms flavor for that mouthwatering, fruity goodness that invokes sweet childhood memories.
STRAWBERRY WATERMELON BUBBLEGUM - A luscious union of strawberry and watermelon bursting with goodness featuring the flavor profile of the classic Strawberry Watermelon Bubblegum we adored. Experience it now with Candy King's e-liquid!
SWEDISH - Capture the taste of the outstanding rendition of the chewy Swedish berry candy in an E-juice that you will surely adore