Hangsen TOBACCO RANGE 10ML BOTTLE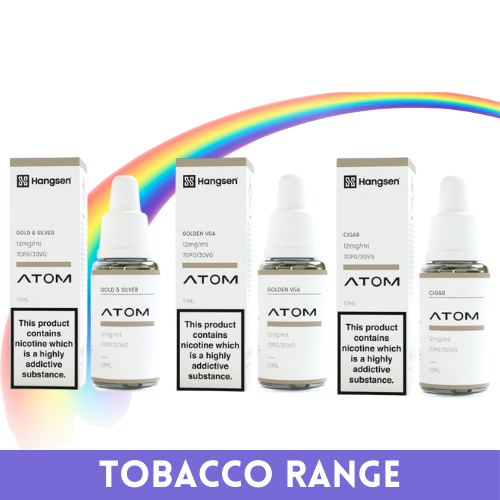 Hangsen TOBACCO RANGE 10ML BOTTLE
TOBACCO RANGE:
Hangsen e-liquid is rigorously tested for safety and quality. Because Hangsen e-liquid uses a tobacco extraction technique, Hangsen e-liquid is able to provide a consistent, high-quality and robustly flavored e-liquid that meets the demands of even the most discriminating vaping customers.
TO BE SOLD AS PACK OF 10

RY6:-

Hangsen RY6 is the classic tobacco blend, providing a strong tobacco taste with no sweetness at all. This is as close as you can get to replicating the strong, oaky flavour of burning tobacco.
TOBACCO:-
Tobacco e-liquid is a humble blend of high quality, top shelf tobacco, even though it may seem simple, this juice is a complex combination of flavours which replicate the feeling of smoking a cigarette to perfection.
USA MIX:-
Hangsen USA Mix is a smooth tobacco blend, this juice recreates the flavour, and most importantly the throat sensation of this iconic tobacco blend. Discover the smooth and bold flavour of the USA mix and find out for yourself how good it actually is.
RY4:-
RY4 is a smooth tobacco blend enhanced by vanilla and caramel. Naturally these flavours exist within tobacco, however the RY4 adds those flavours on top to draw out and maximise those flavours.
CIGAR:-
10ML Hangsen Cigar just when you thought Hangsen couldn't do any more for tobacco flavoured e liquids, they innovated and made Cigar
ST TOBACCO:-
10ML Hangsen ST Tobacco heavier or deeper tobacco flavours we have on offer this St Tobacco e liquid from Hangsen offers a uniquely satisfying e smoke experience for those looking for a tobacco taste with a kick.
RAINBOW:-
10ML Hangsen Rainbow is a wonderfully strong tobacco juice which will enhance your vaping pleasure. If you enjoyed smoking stronger UK brands of cigarettes, this juice will impress as it conjures that familiar, comforting flavour.
SMOOTH:-
Eminently satisfying without assaulting your throat, 10ML Hangsen Smooth E liquid is in the name. You'll love the rice tobacco flavour which you can enjoy all day and we're sure you will be back for more of this fine juice.
GOLDEN VGA:-
Golden VGA brings a blend of finely cut Virginia, burley, and oriental tobacco flavourings, hand-rolled tobacco smokers will love the authentic taste of burning tobacco leaves.
GOLD & SILVER:-
Boasting a full bodied tobacco flavour, Hangson Gold & Silver delivers a satisfying all-day vape. If you are missing your ciggies, this fine flavour is the perfect choice to ease your pain and will lift your spirits.
GOLDEN TREE:-
Golden Tree is the perfect smooth and full of flavour, this one sets the gold standard for tobacco e liquids.