ELF BAR 600 DISPOSABLE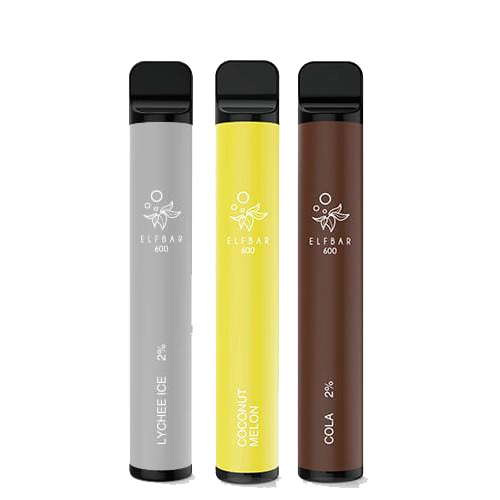 ELF BAR 600 DISPOSABLE
PACK OF - 10

Available in 20 MG, APPROXIMATELY 600 PUFFS
ELF BAR 600 DISPOSABLE
The Elf Bar 600 pod device is extremely portable, with its ergonomic and compact design. Created with a built-in 550 mAh battery and 2 ml of 20 mg nic salt e-liquid, this disposable kit averages about 600 puffs, or the equivalent of approximately 45 cigarettes.
PRODUCT HIGHLIGHTS
Fashionable and portable.
Pre-filled with 2 ml of 20 mg nicotine salt e-liquid.
Large 550 mAh battery.
Wide range of delicious flavours.
SPECIFICATIONS
Elf Bar 600 Disposable Pod Kit
Height: 104 mm
16 mm
550 mAh
Pre-filled with 2 ml of 20 mg nicotine salt e-liquid
Approximately 600 puffs
CONTENTS
1 x Elf Bar Disposable Vape Device 600 Puffs
FLAVOURS
Apple Peach
Banana Ice
Blueberry
Blue Razz Lemonade
Blueberry Sour Raspberry
Coconut Melon
Cola
Cotton Candy Ice
Cream Tobacco
Elf Berg
Energy Ice
Grape
Kiwi Passion Fruit Guava
Lemon Tart
Lychee Ice
Mango
Mango Milk
Peach Ice
Pineapple Peach Mango
Pink Lemonade
Spearmint
Strawberry Banana
Strawberry Energy
Strawberry Ice
Strawberry Ice Cream
Strawberry Kiwi
Watermelon