BREAKFAST AT TELEOS 120ML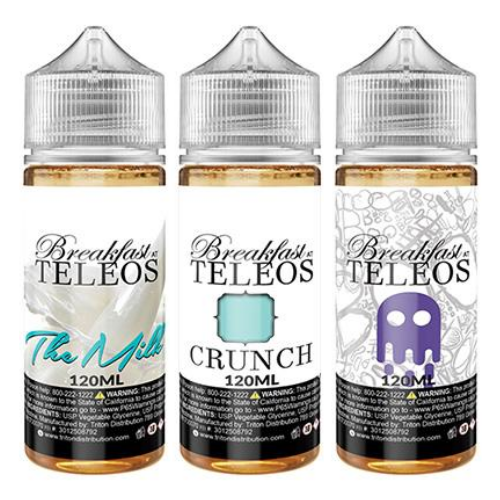 BREAKFAST AT TELEOS 120ML
Crunch - The first in our Breakfast at Teleos line, CRUNCH pays homage to two of our favourite things: a classic cereal and a gooey, crispy dessert legend. Subtle notes of marshmallow-laden sweetness accompany the flaky undertones of cereal. On the front end, you'll get a handful of berry flavour bathed in milky deliciousness and on the back a wonderful sweet, creamy mouth feel. One of our more "mellow" flavours, but full-bodied at the same time.
PRIMARY FLAVORS: CEREAL, BERRY, WHOLE MILK, MARSHMALLOW
The Milk - The second juice in Breakfast at Teleos, THE MILK pays homage to one of our favorite drinks, fruity cereal milk from Brooklyn. For those that don't know, it's a drink made by steeping Fruity Pebbles in whole milk with a few other key ingredients, vigorously stirred, and strained. When it does, they get one of the most delicious drinks on the planet. When we do it, we get THE MILK.
PRIMARY FLAVORS: WHOLE MILK, FRUITY CEREAL, BROWN SUGAR
Boo - When we originally created Crunch, the plan was for all of Breakfast at Teleos to become variants on a theme. We experimented with a lot of flavors, and eventually nixed this idea (after which we created The Milk).In early 2016 we began to revisit it and eventually settled on two flavors. The first of which is Boo. Everything you love about Crunch, slathered in rich, reduced blue berries. Following up Crunch wasn't easy, as it remains one of the best flavors we've ever created, but we feel as though Boo finally does it justice.
PRIMARY FLAVORS: CEREAL, BLUE BERRIES, WHOLE MILK, MARSHMALLOW
Cookie Crunch - Inspired by the fact Crunch and The Cookie are absolutely insane when mixed (50% of each if you're looking to try it) - Cookie Crunch is kind of that, but not that at all.We yanked the berry out of Crunch and the caramel out of The Cookie, and rebalanced some of the milk to accommodate the new pronounced flavors. An excellent all day vape, and not overpowering in any particular note.
PRIMARY FLAVORS: CEREAL, COOKIE, MILK, SUGAR
Bits - Oof, we were at this one for a while. We had the first iteration at our booth back at Vape Summit 2014. Nearly two years later, it's finally here.We suppose it was impossible back then, to hit the notes we wanted to hit. That reminiscent but not identifiable cereal flavor, hidden behind a massive layer of marshmallow. Finally, in June 2016, we cracked the marshmallow code.
PRIMARY FLAVORS: MARSHMALLOW, THE MEMORY OF CEREAL
BEST IN: Aspire Atlantis
VG: 70%
PG: 30%