Hangsen FRUITY RANGE 10ML BOTTLE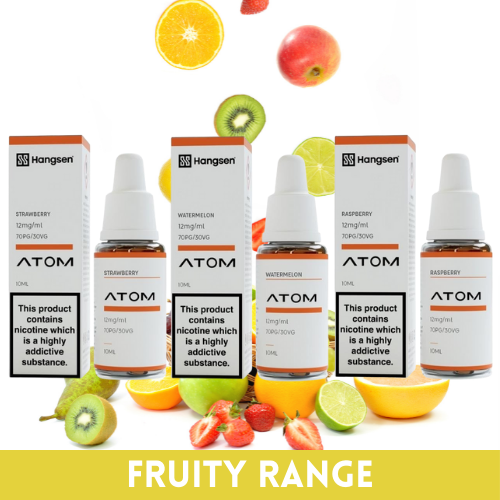 Hangsen FRUITY RANGE 10ML BOTTLE
FRUIT RANGE:

Hangsen e-liquid is rigorously tested for safety and quality. Because Hangsen e-liquid uses a tobacco extraction technique, Hangsen e-liquid is able to provide a consistent, high-quality and robustly flavored e-liquid that meets the demands of even the most discriminating vaping customers.
TO BE SOLD AS PACK OF 10
GRAPE:-
Hangsen Grape gives you the juicy tones of fresh grapes, alongside the rich notes of an e-liquid that has been naturally extracted from tobacco.
COCONUT:-
10 ML Hangsen Coconut perfectly captures the unique flavours of the fruit and delivers a fresh and exotic vape which we are sure you will love.
JUICY PEACH:-
Hangsen Juicy Peach features a blend of ripe and juicy peaches, the flavour profile strikes the perfect balance between sharp and clean flavours without being overpowered by sweetness.
WATERMELON:-
Hangsen Watermelon is a full on watermelon extravaganza. This is one of the fruitiest, sweetest and most refreshing flavors watermelon blends available on the market; It's the perfect choice if you prefer a clean and full bodied vaping experience.
BLACKCURRANT:-
Blackcurrant flavoured e-liquid gives you a deliciously fruity, full flavoured vaping experience. This e-liquid has a dark and sweet forest-fruit taste that will refresh your palette as you go about your day.
STRAWBERRY:-
Strawberry is a perfectly crafted blend of freshly picked strawberries. This juice managed to perfectly capture the taste of fresh strawberries with a sweet and delicately sour flavour profile.
RASPBERRY:-
Hangsen Raspberry e liquid by will take you back to those days where nothing else mattered but relaxing and enjoying the fresh fruity flavour.
BANANA:-
Hangsen Banana e-liquid brings you the wonderful taste of the world's number one favourite fruit. This amazingly popular soft, sweet flavour lends itself perfectly to an e-liquid, producing that distinctive banana taste along with a delicious aroma that's just perfect for vaping.
BLUEBERRY:-
Blueberry is a crisp forest fruit extravaganza. This juice combines perfectly replicated notes of hand picked blueberries, offering just the right amount of sweetness and acidity.
BLACK CHERRY:-
Hangsen Black Cherry is a sweet tasting e liquid that perfectly replicates the flavour of Juicy black cherries.
CINNAMON:-
Hangsen Cinnamon is a pleasantly spicy addition to the brand's premium range of flavours. Experience the tingling warmth of cinnamon with the subtle-sweet quality you'd expect from a quality e-liquid.
MANGO:-
Mango is a deliciously sweet fruit flavoured e liquid that brings a tropical feel you your vape.
PINEAPPLE:-
Hangsen Pineapple provides a tropical and juicy sensation for vapers who want a premium experience and a real sense of flavour.
FRUIT MIX:-
Hangsen Fruit Mix is a sweet and refreshing flavour experience from the world renowned premium e-liquid brand.
APPLE:-
Apple e-liquid is usually hit or miss when it comes to replicating the taste of a nice juicy apple, Hangsen have got it right.
CHERRY:-

Cherry flavoured e liquid by Hangsen is a very popular e juice when it comes to fruit flavours. Enjoy the taste of lush ripe cherries, bursting with juicy, loveliness.
LEMON & LIME:-
If you're looking for a sweet, fresh flavour then Hangsen Lemon and Lime is the perfect flavour for you.