MOREISH PUFF ICED 100ML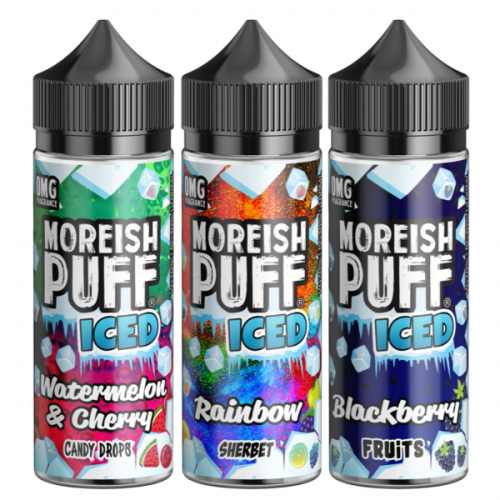 MOREISH PUFF ICED 100ML

Flavours
APPLE & MANGO SHERBET - A mix of two undeniably flavoursome fruits. Apple & Mango Sherbet Iced hits the taste-buds featuring a refreshing blend of the finest Apples and sweet juicy Mangoes showered with a blast of ICE.
RAINBOW SHERBET - A cool NEW mouth-watering sensation... Moreish Puff Rainbow Sherbet ICED is a magical mix of raspberry, orange and lime with a cool tingle ICED twist.
WATERMELON & CHERRY CANDY DROPS - Watermelon & Cherry ICED features an insanely tasty blend of Juicy Watermelon and sweet Cherries, infused with notes of sugary Candy and coated with layers of cool Ice.
BLACKBERRY FRUITS - Moreish Puff Blackberry Fruits features succulent, soft, and juicy Blackberries. The sweet, slightly tart, Blackberries are sunken into a layer of cool ICE.