PUKKA SALT 10ML - PACK OF 10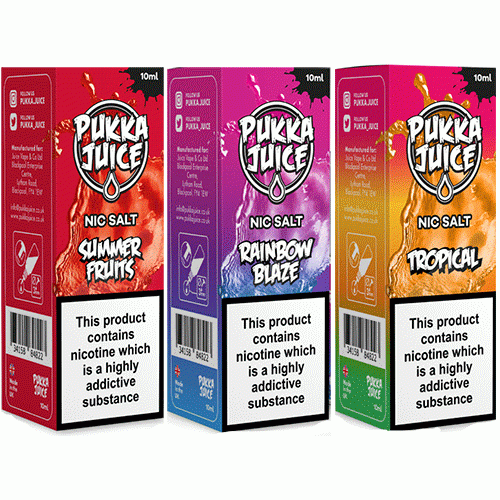 PUKKA SALT 10ML - PACK OF 10
PACK OF 10
PUKKA SALT 10ML
10ML (20MG/ 10MG)

Welcome to the world of Pukka Juice Nic Salt Range proudly brought to you by Vape Citi. Pukka Juice Nicotine Salt E-Liquid delivers all the flavour found in the original version but in a smooth, yet hard-hitting Nicotine Salt mix, 10ml, 50% VG and 50% PG, 10 mg or 20mg
Berry Blaze BLACKCURRANT AND BLUE RASPBERRY SMASHED TOGETHER IN A BLAZE OF FLAVOUR!
Blaze A COMBO OF RASPBERRIES & BLUEBERRIES TO TANTALISE YOUR TASTEBUDS!
Blaze no ice THE GREAT TASTE OF PUKKA BLAZE, WITHOUT THE ICE!
Tropical AN EXOTIC MIX OF WATERMELON, KIWI & PASSIONFRUIT

Summer Fruits A COMBINATION OF BERRIES WITH A HINT OF LIME
Lime Lemonade A LIMEY & LEMON HIT!
Rainbow Blaze YOUR FAVOURITE SWEETS COMBINED WITH THE GREAT TASTE OF BLAZE!
Dew OUR TAKE ON MOUNTAIN DEW. A SWEET, REFRESHING VAPE WITH A ZING!
Blackberry Lime RIPE BLUEBERRIES FUSED TOGETHER WITH REFRESHING LIME ,MINT & ICE
Blue Pear Ice SWEET BLUEBERRIES & JUICY PEARS FINISHED WITH ICE
Blackcurrant Fuji Apple FRESH BLACKCURRANT COMBINED WITH DELICIOUS FUJI APPLE WITH A TOUCH OF CITRUS
Cherry Blaze

MOUTH WATERING CHERRY LEMONADE BLENDED WITH THE REFRESHING TASTE OF BLAZE