JOLLY RANGER MISFITS 100ML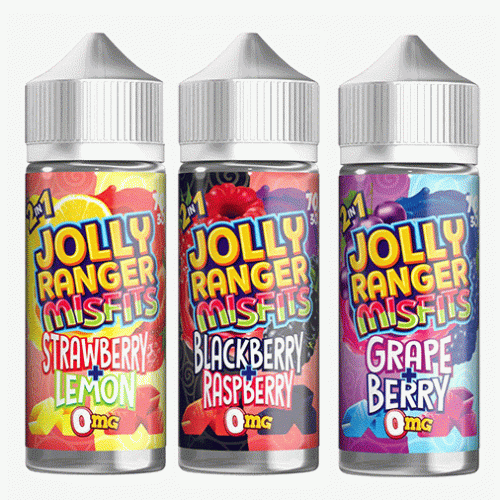 JOLLY RANGER MISFITS 100ML
JOLLY RANGER MISFITS 100ML
The most beloved, the most popular, the best-selling candy all around the world now comes in a vape juice form! Bring back your inner child with these sweet and sour candy flavoured premium liquids. We present you the e-liquid that has shaken the wholesale price in UK

PG/VG- 70/30
Strength:- 0mg
FLAVORS

Blackberry Raspberry- You ll experience a sweet &tangy flavor, just like the real berries. This combination of blackberry and raspberry vape flavor is perfect with each other and mixes nicely together.
BLUE RAZZ WATERMELON- Tasty fresh fruit vape flavor combination perfect for summer crisp watermelon & delectable blue raspberry fused together to leave your taste buds with a sweet and unique impression.
GREEN APPLE CHERRY- Green apple & cherry is an explosive mix sugary sweet cherry based flavors mixed with green apples to give a beautifully balanced and well-rounded vape flavor.
GRAPE BERRY- This incredibly more-sh sublimely sweet E-liquid is sure to become one of your new favorites. you 'll love this absolute jam-packed with sweetness and great tasting goodness.
STRAWBERRY LEMON- Strawberry lemon is a detectable candied fruit vape that combines sweet summer strawberry with a burst of zesty lemon to produce a delicious flavor explosion of fruity goodness.